Dell Tech Camp : le constructeur sort sa panoplie hardware PME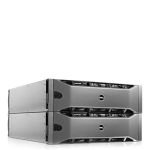 Dell a exposé les principales références de serveurs d'applications et de stockage (PowerEdge, PowerVault, EqualLogic) pour toucher les PME. Il propose même un mini-data center (bonus vidéo).
Stockage, virtualisation, cloud…Dell élargit sa gamme de produits pour mieux appréhender les besoins des petites et moyennes entreprises.
A l'occasion de son évènement paneuropéen « Tech Camp » organisé mercredi à Londres, Dell a exposé ses meilleures plates-formes serveurs d'applications et de stockage destinées aux petites et moyennes entreprises.
Si les responsables en charge des démonstrations sont ravis de présenter les fonctionnalités techniques, ils sont moins diserts sur le volet des prix qui peuvent varier d'un pays à un autre.
L'avantage avec le segment Small and Business Medium, c'est que l'on traverse une grande partie des gammes hardware du constructeur : PowerEdge, PowerVault et même EqualLogic.
Des plus basiques aux plus sophistiquées jusqu'à un véritable mini-data center….
Pour répondre aux besoins des entreprises les plus basiques (partage de fichiers, plate-forme Microsoft Exchange…), Dell met en avant son modèle son serveur d'applications PowerEdge T110 II (photo ci-dessous).
Disponible en format tour, il embarque au choix des processeurs Quad-Core Intel Xeon (E3-1200) et Dual-core Intel Core (i3-2100), 8 Mo de cache, mémoire jusqu'à 32 Go, stockage interne jusqu'à 8 To.
En guise de système d'exploitation, des déclinaisons Microsoft Windows Server (Small Business Server 2011, Server 2008 R2 Foundation, Server 2008 SP2…) ou Linux (Novell ou Red Hat) sont proposées.
En montant dans les niveaux de fonctionnalités, le constructeur met en avant deux modèles de serveurs orientés virtualisation : PowerEdge R415 et PowerEdge R510 disponibles en format racks 2U.
Le dernier modèle propose deux sockets processeur (avec des quad-core ou six-core Intel Xeon des séries 5500 et 5600).
Le cache est extensible entre 4 Mo et 8 Mo en fonction des configurations. La mémoire peut attendre 128 Go. En fonction du châssis, le stockage interne varie entre 8 To et 24 To.
Les systèmes d'exploitation sont similaires mais les solutions de virtualisation sont davantage mis en avant (Hyper-V côté Microsoft et vSphere 4.1 côté VMware).
(lire la suite page 2 : la partie stockage et le mini-data center en vidéo)
Lire aussi :