Google Maps : le format plein écran sera-t-il privilégié ?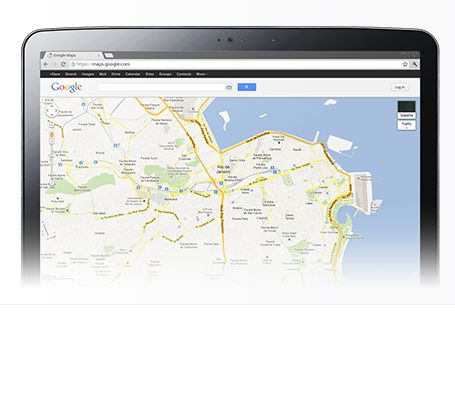 Google serait en train de concevoir une nouvelle version de son service populaire de cartographie interactive. L'ébauche d'une prochaine annonce sur Google I/O ?
Google plancherait sur une nouvelle version de son service de cartographie interactive Google Maps.
Un outil populaire du groupe Internet, largement prédominant en termes de part de marché.
Rien d'officiel mais des fuites et des photos en provenance de « The unofficial Google System blog » alimente la rumeur.
Un avant-goût d'une annonce lors de la prochaine session de Google I/O spéciale pour les développeurs (15-17 mai San Francisco) ?
Selon Gizmodo.fr, si l'on se fie aux captures d'écran de Google Maps de nouvelle génération qui ont fuité, le principe de la barre de menu sur l'interface serait abandonné pour mettre l'accent sur le format plein écran.
Un système qui serait plus pratique pour la consultation sur des smartphones ou tablettes sous Android.
Autre nouveauté : les interactions avec Google+. Il sera possible de de jeter un oeil aux endroits suggérés par votre liste d'amis du réseau social.
Dans la série des améliorations esthétiques, la couleur pour signaler les route passerait du jaune au blanc.
La version Google Maps présentée par le blog officieux suscite déjà quelques réactions critiques.
Elle ressemblerait au concurrent Apple Plans, à en croire The Huffington Post aux Etats-Unis.
Il faudra donc que Google y prête attention si la rumeur d'une nouvelle version de son service de cartographie se confirmait.
Ce qui est sûr, c'est qu'on ne risque pas de s'ennuyer au cours de cette édition 2013 de Google I/O.
Plus de 120 discussions techniques sur des sujets comme Google Maps, Android, Google Chrome, Google+, App Engine ou Google Glass sont attendues.
——————
Quiz : Etes-vous au point sur la réalité augmentée ?
—————-
Lire aussi :