iPhone 6 ? iWatch ? Apple confirme le rendez-vous sans en dire plus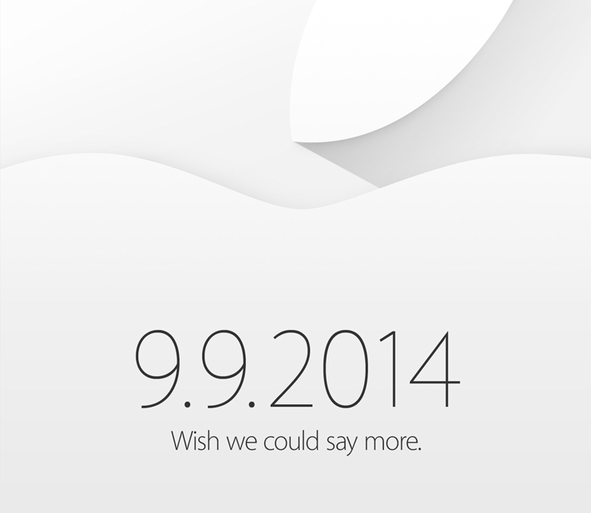 Apple a envoyé un énigmatique carton d'invitation à la presse pour une session keynote le 9 septembre. L'iPhone 6 devrait être présenté. Quid de l'iWatch ?
C'est confirmé…Du moins le rendez-vous le 9 septembre avec la presse. Aux Etats-Unis, Apple vient de distribuer des invitations pour les médias afin d'assister à une conférence. Sur le carton pour l'évènement, on peut lire cette accroche :"Wish we could say more " ("Nous aimerions pouvoir vous en dire plus").
Comme à son accoutumée, la firme de Cupertino reste très laconique, tout en faisant monter le suspens : la présentation de l'iPhone 6 est probable et la cerise sur le gâteau serait l'apparition de la montre connectée iWatch.
La firme de Cupertino reste aussi fidèle à son rythme d'annonce :  l'an passé, la génération iPhone 5  (5c et 5c) avait été présentée le 10 septembre.  L'enchaînement a été rapide : pré-commande de l'iPhone 5c (à partir du 13 septembre 2013) puis arrivée de l'iPhone 5s (à partir du 20 septembre). Parallèlement, la Golden Master d'iOS 7 fut, elle, rendue disponible le 18 septembre.
Si la société dirigée par Tim Cook applique un schéma similaire, au moins l'une des deux déclinaisons présumées de l'iPhone 6 devrait être en pré-commande dans le courant du mois de septembre. Dans la foulée de l'évènement presse, la nouvelle mouture OS d'Apple (iOS 8) serait disponible.
Signalons toutefois un changement de lieu pour le show : Apple a retenu le Flint Center for The Performing Arts (situé à Cupertino dans la Silicon Valley, où se trouve le siège social de la firme) au lieu du  Yerba Buena Center for the Arts de San Francisco.
Il s'agit d'un lieu chargé d'histoire pour Apple et pour les aficionados de la "marque à la Pomme" : Steve Jobs y a présenté le premier Macintosh en 1984. De retour aux commandes d'Apple, il y présentera également l'iMac G3 en 1998 puis l'iMac SE un an plus tard.
Malgré l'apparition de prétendues pièces détachées de l'iPhone 6, il reste encore difficile de dresser le portrait-robot global du futur smartphone d'Apple. Toutefois, on peut tabler sur plusieurs spécifications en recoupant des éléments qui ont fuité.
L'iPhone 6 pourrait être décliné suivant deux tailles d'écran : 4,6 pouces (11,9 cm) et 5,5 pouces (14 cm) mais le lancement du deuxième modèle en mode phablette serait plus tardive. Pour les écrans iPhone 5s et 5c, c'est une diagonale de 4 pouces (10,2 cm) qui avait été retenue.
Autre point névralgique : le SoC A7s (avec un processeur d'une fréquence de 1,3 GHz) embarqué sur l'iPhone 5 devrait laisser sa place à l'A8 (dont le processeur serait cadencé à 2 GHz). Le coprocesseur M7 de NXP Semiconductors dédié aux mouvements devrait laisser sa place à une version améliorée de la puce avec le M8. Apple en profiterait aussi pour accroître la capacité par défaut (actuellement de 16 Go).
iPhone 6 : NFC ou iBeacon ?
Apple pourrait également surprendre dans le secteur de la connectivité sans fil. L'iPhone 6 pourrait en effet supporter le Wi-Fi 802.11ac (en plus des déclinaisons a/b/g/n) ainsi que la norme NFC (une technologie sans fil à champ proche).
Même si c'est une technologie de référence pour les services sans contact depuis les smartphones, il vaut mieux prendre des précaution. Certes, la norme Near Field Communication  permettrait un appairage plus rapide avec les casques Bluetooth signés notamment Beats et elle pourrait aussi favoriser les achats sur terminaux mobiles.
Mais ce serait une énorme (et agréable) surprise pour l'écosystème de développement NFC qui se désespère de l'absence de compatibilité NFC avec l'iPhone (un smartphone incontournable sur le marché). Sur ce terrain, il est plus probable qu'Apple privilégie l'intégration d'une solution propriétaire basée sur iBeacon pour la géolocalisation des clients en magasin et fonctionnant sur le Bluetooth 4.0.
Après de multiples rumeurs, les ambitions attribuées à Apple autour du revêtement saphir pour l'écran de l'iPhone 6 seraient revues à la baisse. Pour des raisons de coûts, ce matériau serait uniquement utilisé pour couvrir les lentilles des APN (capteurs photos) et le capteur Touch ID (définir votre empreinte digitale en tant que code d'accès). Comme c'est déjà le cas sur l'iPhone 5s.
Dans un tout autre domaine,  Apple pourrait aussi "révolutionner" l'écoute de musique nomade plus subrepticement. L'iPhone 6 pourrait en effet être associé de manière privilégiée avec les casques audios Beats (désormais une propriété d'Apple) en utilisant le port Lightning (plutôt que le classique jack 3,5 mm) suivant les spécifications du programme MFi (Made For iPhone) pour fournir un signal audio rehaussé en qualité aux casques audio. Une telle connection lui permettrait également d'alimenter le casque mais aussi à l'iPhone 6 d'intégrer la réduction de bruit active (plutôt que dans le casque) via l'utilisation de son microphone.
A-t-on déjà deviné déjà deviné le bonus "One more thing !" (rendu célèbre par feu Steve Jobs) de la prochaine présentation phare d'Apple ? Un second produit est pressenti pour voler un peu la vedette à l'iPhone 6 : la montre connectée iWatch pourrait aussi être également dévoilée le 9 septembre.