Prochain rendez-vous avec Apple : le signal « time to market » pour l'Apple Watch ?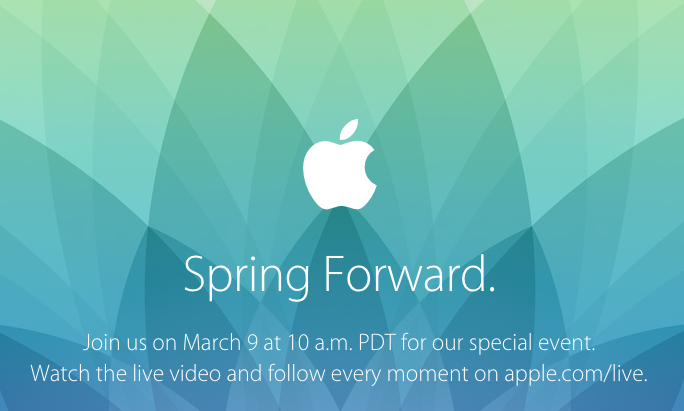 La première keynote d'Apple de 2015 est prévue le 9 mars. L'Apple Watch sera l'un des produits vedettes en raison de sa sortie prévue en avril.
Préparez-vous à la première offensive d'Apple de l'année 2015.
Elle sera ponctuée de surprises mais on en saura probablement plus sur la mise sur le marché de l'Apple Watch à l'occasion d'une keynote calée le 9 mars  au centre de conférence Yerna Buena Center for The Arts de San Francisco.
Comme à son habitude, le carton d'invitation envoyé à la presse est laconique avec un simple « Spring Forward » qui annonce la transition vers le printemps, reprise par des formes géographiques symbolisant la floraison sur le site d'Apple.
Un lieu symbolique pour la firme de Cupertino : Steve Jobs (qui aurait dû fêter ces 60 ans en février) a présenté plusieurs générations d'iPhone (à partir de 2007) et l'iPad (27 janvier 2010) qui constitue le dernier type de produit novateur d'Apple sous l'ère du co-fondateur.
L'Apple Watch sera, elle, le premier produit novateur qui portera la signature de Tim Cook.
Alors que le sous-site dédié à l'Apple Watch évoque une laconique sortie prévue « début 2015 », le CEO d'Apple a entretemps indiqué une échéance plus précise en avril.
Au-delà de la disponibilité de la première gamme de montres connectées et des grilles de prix, que nous réserve en plus la keynote à ce sujet ? En septembre 2014, Apple avait dévoilé le concept de la smartwatch en même temps que la génération iPhone 6.
De manière synthétique, on sait qu'il existe trois collections Apple Watch en 18 modèles (standard, Sport et Edition). Disponibles en deux tailles (38 mm et 42 mm), les modèles seront disponibles à à partir de 349 dollars. La montre s'expose déjà dans les pages de la version américaine du magazine Vogue.
Pour le haut de gamme, on évoque un modèle Apple Watch Edition à 18 carats. Business Insider considère que les tarifs des modèles de luxe pourraient se situer dans une fourchette 10 000 – 20 000 dollars.
Il reste aussi des coins d'ombre à propos des spécifications. On a appris récemment que la montre connectée serait étanche (on pourrait la garder en prenant une douche selon iGen mais après ?).
La question de son autonomie suscite aussi une certaine perplexité. Lors de la présentation initiale en septembre 2014, Tim Cook avait précisé qu'il faudrait charger l'Apple Watch chaque nuit.
Une autonomie d'une journée, voilà qui jure avec les 7 jours pour la Pebble Time dévoilée cette semaine.
Pour gagner en performance sur ce point, Apple pourrait jouer sur différents paramètres (fréquence d'horloge du CPU, taux de rafraichissement de l'écran, puissance des vibrations…).
On attend également avec la keynote des précisions sur l'étendue de l'écosystème applicatif associé à la montre connectée.
Au-delà du focus Apple Watch, de quel « One more thing » Tim Cook pourrait se fendre ?
On pense à la refonte du service de streaming Beats Music qui pourrait être prochainement intégré par défaut dans une future mise à jour d'iOS.
Et on ose à peine penser au tant attendu MacBook Air 12 pouces avec écran Retina qui pourrait être équipé d'un processeur Intel Broadwell-U.
Il faudra patienter jusqu'au 9 mars à 18h CET (10h00 PDT aux Etats-Unis) pour être fixé. La conférence sera diffusée en live via Safari et l'Apple TV.
Galerie photos Apple Watch (cliquez sur l'image pour défiler)
Lire aussi :