Stockage : LaCie migre vers le RAID en USB 3.0
Le fournisseur français dévoile une solution de stockage de type RAID pour la première fois basée sur la technologie USB 3.0, le LaCie 2big USB 3.0.
La Cie dévoile un nouveau périphérique de stockage en mode RAID et basée sur le nouveau standard USB 3.0, le LaCie 2big USB 3.0.
Cette technologie de stockage RAID (Redundant Array of Independent Disks) permet de mettre en place des grappes de stockage à partir de plusieurs disques durs, offrant ainsi davantage de disponibilité concernant les données, de vitesse d'écriture et de capacités de stockage.
Cette répartition des données entre plusieurs disques durs offrent plus de sécurité, grâce à cette segmentation des données stockées sur plusieurs supports.
Le LaCie 2big USB 3.0 affiche un taux de transfert très intéressant, pouvant atteindre les 205 Mo/seconde.
Dotée d'une capacité pouvant atteindre les 4 To, le fournisseur français affirme que cette solution de stockage externe peut transférer un disque Blu-ray de 50 Go en moins de cinq minutes, soit un taux de transfert six fois plus rapide que l'USB 2.0.
Atout intéressant : ce produit est rétro-compatible avec l'USB 2.0.
Le LaCie 2big USB 3.0 intègre deux disques durs de 7200 tpm et propose 3 modes distincts de RAID pour plus de sécurité : FAST-RAID 0, SAFE-RAID 1 et JBOD, permettant à son utilisateur d'installer les deux disques séparément pour effectuer leurs sauvegardes.
La solution de stockage RAID Le LaCie 2big USB 3.0 est disponible à 349 euros pour la version de 2 To et à 549 euros pour celle de 4 To.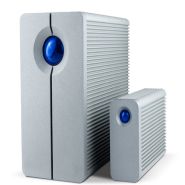 Lire aussi :