Stockage : un NAS compact chez Synology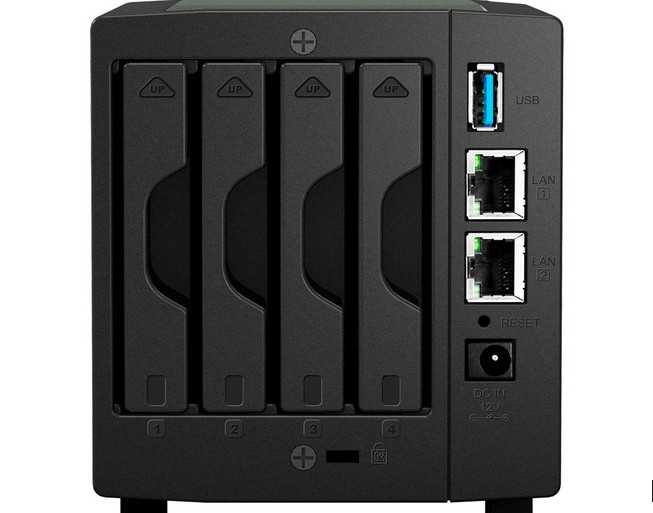 Évolution du modèle DS411 Slim dans la gamme de NAS Synology, le DS414 Slim est globalement mieux doté que son prédécesseur (double interface Ethernet, USB 3.0…) sans être plus onéreux.
Mobilité, réseaux sociaux, sécurité, collaboration, stockage en ligne : face à l'évolution complexe du stockage réseau dans les petites entreprises, Synology donne du volume à son offre de NAS ("Network-Attached Storage").
Nouveau venu au catalogue, le modèle DS414 Slim. Cette évolution du DS411 Slim (série 2011) s'enrichit d'une interface Ethernet Gigabit (soit 2 au total), intègre le support de l'USB 3.0 (2 ports), bénéficie d'une capacité de mémoire vive doublée en standard (512 Mo) et embarque une nouvelle version du système d'exploitation résident, DiskStation Manager (5.0).
Légèrement moins énergivore que son aîné (15,4 W contre 16,8 W grâce à un contrôle plus fin du ventilateur) et d'un niveau sonore comparable (environ 21 dBA), le DS414 Slim repose sur une puce nouvelle génération : l'Armada 370 de Marvell (ARMv7 à 1,2 GHz), qui gère notamment la virgule flottante.
D'un modèle à l'autre, le châssis est toujours aussi compact : 12 x 10,5 x 14,2 cm pour 660 g. Et pour cause, les quatre baies SATA sont au format 2,5 pouces. Ce que l'on gagne en encombrement, on le perd en espace de stockage : la capacité maximale théorique est de 6 To… à comparer au plafond des 24 To (6 To par volume) récemment atteint avec les disques 3,5 pouces. Il est possible d'utiliser des SSD avec la visserie adaptée.
Hormis le "hot swap" (disques échangeables à chaud) et la prise en charge du RAID, les deux interfaces Ethernet Gigabit permettent d'optimiser les performances par basculement automatique ("failover") en cas de défaillance ou par agrégation de liens ("teaming"). Dans ce dernier cas, avec des disques à 7200 tr/min, les débits atteignent 110 Mo/s en lecture et 54 Mo/s en écriture dans un environnement RAID sous Windows.
Pour Synology, c'est l'occasion de mettre en application les nouveautés du système d'exploitation DiskStation Manager (DSM) dans sa version 5.0. Pour mettre plus efficacement les données au service des applications métier, le DS414 Slim s'intègre dans les environnements Active Directory et disposent de connecteurs logiciels qui facilitent la sauvegarde vers et depuis le cloud, d'autres NAS ou encore des périphériques externes.
Compatible avec la résolution UltraHD grâce à des graphismes vectoriels, son interface d'administration est aussi optimisée pour les écrans tactiles. Quant aux applications issues du Package Center (logithèque rattachée aux NAS Synology), elles héritent d'un mode plein écran, d'un système de notification via leurs icônes… et des mises à jour automatiques qui englbent aussi les modules additionnels. Autant de fonctionnalités que le DS411 Slim n'intégrait pas nativement.
—— A voir aussi ——
Quiz ITespresso.fr : maîtrisez-vous le langage high-tech ?
Crédit photos : Synology