Android One lancé officiellement le 15 septembre ?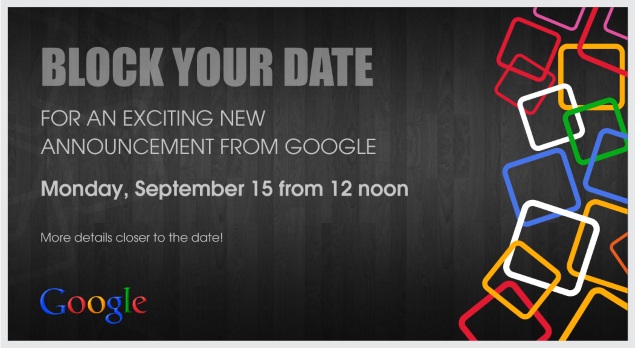 Google vient d'envoyer des invitations pour une conférence de presse le 15 septembre 2014 en Inde. Android One devrait prendre son envol à cette occasion.
Lors de la dernière conférence développeurs Google I/O au mois de juin, il avait été question d'Android Wear et d'Android L, la future mise à jour majeure d'Android. Mais la firme de Mountain View avait également présenté Android One, dont le lancement officiel avait été annoncé pour septembre 2014. D'où une forte probabilité pour que des smartphones relevant de ce programme soient présentés le 15 septembre.
Pour mémoire, lors de la dernière Google I/O, Sundar Pichai, responsable d'Android au sein de Google, avait été le premier à monter sur scène afin de dévoiler ce programme qui vise à équiper les populations des pays émergents en smartphones Android. Ces terminaux mobiles seront notamment caractérisés par leur tarif très abordable.
A l'occasion de la Google I/O, le groupe Internet avait présenté un smartphone fabriqué par le constructeur indien Micromax et annoncé à 100 dollars. Côté spécifications, des exigences minimum sont dispensées aux constructeurs, comme un écran d'au moins 4,5 pouces, un port pour carte mémoire microSD, deux emplacements pour cartes SIM et la présence d'un tuner FM.
Les sociétés qui désirent être partenaires du programme Android One bénéficieront de l'intégration logicielle réalisée par Google sur base d'une ROM Android stock, puis des mises à jour automatiques par OTA. Trois partenaires avaient été annoncés en juin (Karbonn, Micromax et Spice), mais il est fort probable que d'autres constructeurs aient rejoint le programme depuis lors.
Le choix de l'Inde apparait comme logique, puisqu'il s'agit d'un marché où la demande en smartphones d'entrée de gammes est très forte.
Le mois de septembre devrait être riche en annonces relatives à la téléphonie mobile : se profilent le salon IFA de Berlin (du 5 au 10 septembre) puis la keynote d'Apple le 9 septembre et donc cette conférence de presse de Google le 15 septembre.
On notera toutefois que l'invitation reste mystérieuse avec simplement un « More details closer to the date » (« Plus de détails plus près de la date »). De surcroît, le « Block your date » en grosse police de caractère pourrait faire référence aux smartphones modulaires (à base de blocs donc) du projet Ara, dont le prix plancher devrait flirter avec les 50 dollars. Des petits carrés pouvant représenter des blocs apparaissent d'ailleurs sur tout le côté droit du carton d'invitation.
Toujours est-il que Google mise beaucoup sur l'entrée de gamme, un segment très concurrentiel avec Windows Phone, mais aussi Firefox OS, qui équipera le smartphone Intex Cloud FX à 25 dollars prévu pour l'Inde précisément. L'enjeu est de taille pour Google, puisque les smartphones du programme Android One devraient pour partie permettre à un milliard supplémentaire d'individus d'accéder à Internet et donc à ses services.