Green IT : Greenpeace défie Facebook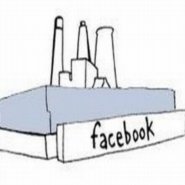 Profitant de la sortie ciné du film sur la création de Facebook (« The Social Network »), Greenpeace France diffuse un film d'animation militant (« The So Coal Network »). Avec bonus vidéo.
Greenpeace s'invite à la sortie ciné prochaine du film sur Facebook en France. « The Social Network » retrace le parcours de Mark Zuckerberg dans la création du réseau social.
L'ONG de protection de l'environnement diffuse en parallèle une « adaptation libre » rattachée à sa cause.
Voici le pitch de la vidéo présentée sous forme d'un film d'animation baptisée « The So Coal Network » et disponible en version française : « la rencontre et l'histoire d'amour de Facebook avec cette énergie polluante, le charbon ».
En fait, cette opération de Greenpeace est liée à la construction d'un data center à Prineville (Oregon, Etats-Unis) dont la principale source d'alimentation en énergie serait des centrales à charbon.
Sur le réseau social, il existe un groupe « We want facebook to use 100% renewable energy » (300 000 membres).
Début septembre, Kumi Naidoo, Directeur Général de Greenpeace International, avait interpellé Mark Zuckerberg dans une lettre postée sur le blog de l'ONG.
Il rappelait au fondateur de Facebook la nécessité de prendre en compte les impacts environnementaux de son entreprise.
« D'autres sociétés fondées sur le cloud ont dû effectuer des choix similaires et relever des défis pour monter des data centers et beaucoup procèdent à des investissements plus intelligents avec des technologies plus propres », écrit l'ONG militante.
« Google, par exemple, a signé un accord sur le long terme avec une fournisseur d'énergie éolienne plus tôt ce mois-ci. Le groupe Internet démontre non seulement qu'il est possible de donner des priorités aux énergies propres mais aussi que l'on peut se montrer avisé. »
Facebook a ouvert un « dialogue par blog interposé ».
Dans sa réponse, Barry Schnitt, Directeur en charge des communications pour les règlements au nom sur le réseau social, confirme que la compagnie d'énergie locale proche du data center de l'Oregon (Pacific Power) exploite légèrement plus de charbon que la moyenne nationale (58% contre environ 50%).
« Cependant, le degré de performance que nous atteindrons au regard du cliamt régional permettra à Facebook de limiter son empreinte carbone. »
Balayant l'argumentaire, Greenpeace France considère que cette réaction jugée timorée de Facebook « reflète la peur de Mark Zuckerberg de s'engager dans les énergies renouvelables ».
Ci-dessous, la vidéo de Greenpeace disponible sur Dailymotion

Facebook : Greenpeace vous invite à abandonner le charbon!
envoyé par gpfrance. – Regardez les dernières vidéos d'actu.
Lire aussi :