IFA 2012 : la gamme Satellite de Toshiba tourne autour de la planète Windows 8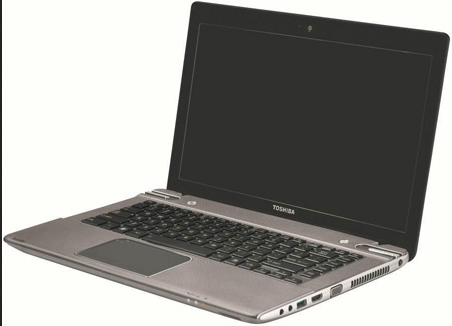 Dans la gamme Satellite, Toshiba accueille un ultrabook et des tablettes convertibles. On parle aussi Ultra HD et cloud (galerie photos).
L'IFA 2012, un rendez-vous cosmique pour Toshiba ? Rien n'est moins sûr.
Dans un interstellaire de concepts hybrides à perte de vue, tout ou presque n'est que processeurs Intel Core, stockage sur SSD et connectivité sans fil exhaustive.
Le constructeur japonais, qui a récemment pris le parti de l'innovation sur le segment des ordinateurs de bureau, prépare la déferlante de ses produits dès la fin octobre pour la sortie de Windows 8.
Son meilleur argument, le Satellite U925t, référencé comme une tablette, mais instantanément convertible en un PC tactile.
Cette métamorphose tient à un clavier coulissant, non détachable, mais taillé pour épouser le format de l'écran 12,5 pouces et se faire oublier lorsque l'appareil est utilisé en mode tablette.
Doté d'un processeur Intel Core i5 bicoeur, d'un SSD de 128 Go, d'une sortie HDMI, de deux ports USB 3.0, d'une interface combinée Bluetooth 4.0 / Wi-Fi 802.11n et d'une puce NFC, le Satellite U925t est proche d'un autre modèle : l'U920.
Ce dernier, catalogué comme un PC portable, embarque lui aussi un écran de 12,5 pouces à technologie capacitive multipoints, pour une définition traditionnelle de 1366 x 768 points.
A 1,45 kg, clavier amovible compris, cet hybride titillerait presque les netbooks, avec en prime une connectivité plus fournie etdans l'air du temps : USB 3.0, HDMI, Bluetooth 4.0, Wi-Fi 802.11n avec technologie d'affichage sans fil Wireless Display (WiDi)…
En outre, son niveau d'évolutivité est tout autre en rapport au Satellite U925t, avec une mémoire vive extensible à 8 Go en DDR3 et un stockage sur SSD dont la capacité peut être doublée à 256 Go, contre 128 Go en standard.
Mais l'incertitude demeure : PC ou tablette ? Si ce jeu d'alternance induit des usages à foison, les professionnels en quête d'un simple ordinateur portable se tourneront vers l'ultrabook Satellite U940, un 14 pouces sous Intel Core i5 (Ivy Bridge).
Une particularité : celle de proposer au catalogue des options une carte graphique Nvidia GT630m, l'équivalent des AMD Radeon Série 7450M, mais enrichies d'une technologie Optimus propice à l'optimisation des performances comme aux économies d'énergie.
Toshiba s'implique également sur le chantier de l'ultra-haute définition et récolte le premier fruit de ses travaux : un téléviseur de 84 pouces doté d'une restitution d'image en 3840 x 2160 points, en ratio 15:9, à un cheveu du standard 4K, qui impose 4096 lignes de 2160 points en 16:9.
En aparté, les disques durs de la marque parlent désormais au cloud. Témoin le dénommé Canvio, un NAS pour particuliers et petites entreprises, associé à des applicatifs mobiles pour iOS et Android.
La version 2 To revient à 220 dollars et celle à 3 To s'affiche à 250 dollars.
Crédit images : Toshiba
Lire aussi :