Interview Yves GASSOT – IDATE : « Télécoms : la consolidation en Europe est inéluctable, y compris en France »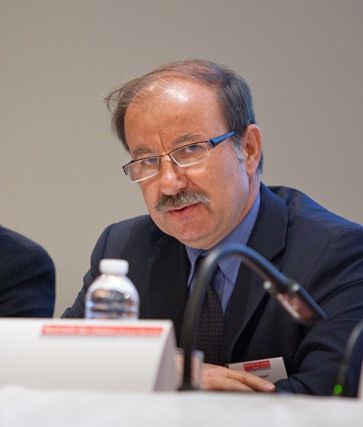 Le prochain Digiworld Summit de l'Idate (novembre) est placé sous le thème : « The digital gold mines ». Entre le cercle « GAFA » (Google – Amazon – Facebook – Apple) et les opérateurs télécoms, qui va profiter du « gisement de valeurs » dans le numérique ?
L'Idate organise son prochain Digiworld Summit entre le 19 et 21 novembre prochain à Montpellier (NetMediaEurope, éditeur d'ITespresso.fr, est partenaire média).
Cette édition 2013 sera placée sous le thème fédérateur : « The digital gold mines » ou les gisements de valeurs susceptibles de dynamiser l'ensemble des marchés du numérique.
« Comment les rendre profitables ? », « Qui est le mieux placé pour capter cette valeur ? », « Quelles opportunités pour l'Europe ? »….Autant de questions qui seront abordées dans le cadre de ce sommet « télécoms – médias – numérique ».
On y attend un panel international de top intervenants comme Jacques Attali (investisseur, essayiste), Vivek Badrinath (Orange), Julien Billot (Solocal Group), Jean-Yves Charlier (SFR), Lee Epting (Samsung Electronics), Vincent Martin (Dailymotion), Tristan Nitot (Mozilla)…
Pour alimenter les débats, ITespresso.fr propose un entretien avec Yves Gassot, Directeur général de l'Idate.
 (Entretien téléphonique réalisé le 23 octobre)
ITespresso.fr : Qui profite vraiment du « gisement de valeur » que représente le numérique ? Les acteurs du type Over-The-Top [OTT, fournisseurs de services Internet comme Google, Facebook ou Skype] ou les opérateurs télécoms ?
Yves Gassot : Le marché des OTT s'est concentré avec des platesformes dominantes. Néanmoins, quand on regarde l'ensemble de la chaîne de valeurs, le poids du secteur des télécoms demeure considérable : plus de mille milliards d'euros au plan mondia. Il continue de croître, même si la progression dans certaines zones s'est fortement ralentie. Et même s'il existe une situation assez spécifique au niveau européen. Le marché nord-américain a crû de 4 à 5% l'an dernier si l'on s'en tient au mobile. Le marché européen a chuté d'une proportion similaire.
Et le fossé a peut-être augmenté au cours de ces derniers trimestres. Les résultats de Verizon Wireless ont progressé (+8%) au dernier trimestre. Et pourtant, cet opérateur mobile est tout aussi exposé que des acteurs comme Google ou Amazon. Tout autant que les opérateurs européens.
Quels que soient les scénarios que l'on peut esquisser de l'écosystème Internet, il faudra bien disposer d'accès à très haut débit fixe et mobile si l'on veut que l'effervescence autour des applications et des services se poursuive.
Et pour que ces infrastructures existent, il faudra bien définir un business model qui permette d'avoir un retour sur investissement. On est dans une chaîne de valeur complexe dans laquelle chacun cherche à générer et optimiser de la valeur ajoutée et dégager du profit.
On a du mal à imaginer les opérateurs télécoms prendre la place des fournisseurs de services Internet (OTT). Et vice-versa. Malgré les expérimentation de Google autour de la fibre aux Etats-Unis, le groupe Internet ne va pas devenir un opérateur télécoms pour autant.
Il faut sortir de l'idée que chacun va engloutir l'autre. Mais il est vrai que les domaines de prédilection vont être redéfinis. De nouveaux équilibres vont apparaître en fonction des mouvements du « club GAFA » (Google, Amazon, Facebook, Apple) et Microsoft.
Après, il existe des débats légitimes sur la régulation (problème d'asymétrie des contraintes réglementaires ou fiscales).
ITespresso.fr : Peut-on s'attendre à une nouvelle donne dans le financement des réseaux télécoms avec une contribution plus active des OTT ?
Yves Gassot : Je pense que le financement des réseaux demeure au coeur du modèle économique des opérateurs télécoms. C'est eux qui prennent en premier lieu la responsabilité de choisir les technologies et d'investir.
Dans les dix ans à venir, l'opérateur télécoms tirera encore la majeure partie de ses revenus à l'accès. Mais il faudra renouveler la façon de commercialiser l'accès, trouver les moyens de se différencier au niveau de l'innovation et davantage segmenter l'offre et les tarifs d'accès en fonction des services apportés.
Mais cela peut passer par une offre « two-sided » : au-delà des tarifs adressés aux consommateurs finaux, il faut établir une stratégie vis-à-vis des grands services de l'Internet. Cela passe par des négociations sur les interconnexions réseaux mais aussi le développement de l'offre de services managés (comme des prestations de type content delivery networks ou CDN pour accélérer la diffusion des contenus via les réseaux). Ces acteurs ont besoin d'un niveau de qualité de service à l'accès pour toucher les consommateurs finaux.
L'Idate ne cherche pas à cristalliser la situation sur l'opposition fondamentale entre opérateurs réseaux et OTT. On prend même une posture inverse (sans nier les problèmes) : la grande chance pour les opérateurs télécoms est qu'ils ne se placent pas dans une « vision à la Schumpeter« .
Leur secteur n'est pas condamné par l'innovation technique. En règle générale, les gens n'ont jamais autant communiqué. Ils n'ont jamais eu autant d'appétit pour s'emparer des nouvelles infrastructures d'accès. Par contre, il faut ré-inventer un business model.
Mais les acteurs qui donnent de la valeur aux accès des opérateurs télécoms, ce sont bien les acteurs du Net (OTT). Je pense que ce type de réflexion est très largement partagé par les opérateurs télécoms.
ITespresso.fr : En Europe, on recense plus d'une centaine d'opérateurs télécoms (exploitants réseaux, MVNO…). Pour aboutir à un marché unique des télécoms, une phase de consolidation est-elle nécessaire ?
Yves Gassot : Oui. Je crois à la consolidation sous différentes formes. En prenant les cinq principaux marchés européens, on estime que, dans la période fin 2008 – fin 2013, les opérateurs de services télécoms auront perdu 12% de leurs chiffres d'affaires (consolidés). C'est conséquent.
Parallèlement, les marges se sont détériorées. On a vu des opérateurs dans le rouge à la fin de l'année dernière. C'est le cas d'opérateurs historiques comme KPN ou de « nouveaux entrants » comme Bouygues Telecom.
Je crois que l'on peut parler globalement d'une situation de crise dans le secteur des télécoms en Europe. Les chiffres 2013 devraient confirmer cette tendance. Dans ce contexte, on peut s'attendre à une phase de consolidation.
Depuis quelques mois, les opérations de ce type se multiplient. En Autriche, on a vu l'absorption d'Orange par Hutchison Whampoa en Autriche. Plus récemment, Hutchison a pris le contrôle d'O2 en Irlande. Il a failli s'emparer de Telecom Italia mais finalement, c'est Telefonica qui est monté en première ligne.
Sur le marché des câblo-opérateurs, l'américain Liberty Media a consolidé ses actifs européens (prise de contrôle de Virgin Media au Royaume-Uni).
On a suivi la saga America Movil – KPN (la tentative d'OPA du groupe de Carlos Slim a finalement échoué)…Les cours bas des opérateurs européens peuvent attirer des investisseurs internationaux. Ainsi, l'opérateur de téléphonie mobile russe Vimpelcom a acquis l'égyptien Orascom et l'italien Wind.
Ensuite, on peut analyser ces résultats exécrables des opérateurs comme le fruit d'une guerre des prix. On l'a vu avec l'arrivée de Free Mobile en France. Sa stratégie pour gagner des parts de marché rapidement a été proposer des tarifs attractifs. Ses concurrents ont dû réagir en abaissant leurs tarifs pour éviter de perdre trop de clients. Pour le grand bénéfice du consommateur à court terme. C'est indiscutable et c'est une très bonne chose.
Le revers de la médaille, c'est que la situation n'est pas soutenable àà moyen terme et elle pèse sur les moyens d'investissement. Il y a très certainement un lien à faire avec ce sujet et le retard pris dans la 4G et le déploiement de réseaux à haut débit en Europe.
La guerre des prix peut engendrer une consolidation sur un marché donné : on passe de quatre à trois acteurs. C'est ce qui s'est passé en Autriche et en Irlande.
Il faut absolument suivre l'opération initiée en Allemagne pour fusionner O2 (filiale de Telefonica) et E-Plus (filiale de KPN) car elle est stratégique au regard de l'importance de ce marché en Europe (c'est le premier).
Si les autorités antitrust (Allemagne et Commission européenne) donnent leur feu vert à ce rapprochement, cela pourrait des idées sur d'autres marchés (Royaume-Uni, France, Italie, Espagne…) : pourquoi soutenir par principe l'exploitation de quatre opérateurs ?
ITespresso.fr : En France, la cohabitation à quatre opérateurs mobiles est-elle tenable ?
Yves Gassot : Elle me semble très difficile au regard des prix pratiqués et des résultats financiers. C'est vrai pour Orange au regard de ses derniers résultats mais aussi pour SFR et Bouygues Telecom.
Cette tendance n'est pas soutenable sur le long terme. Il y aura forcément un processus de consolidation.
J'observe que les processus d'introduction en Bourse de Numericable et de SFR sont liés à des intentions d'investisseurs de sortir du marché. Les changements capitalistiques ne changeront rien à la concurrence vivace.
Parallèlement, on observe le processus de mutualisation des réseaux entre SFR et Bouygues Telecom. Ce partage de l'infrastructure constitue un signe que le marché cherche sa voie dans le sens de la consolidation. C'est une manière d'alléger la pression concurrentielle.
ITespresso.fr : Concernant la série de révélations liées aux écoutes électroniques menées par les Etats-Unis (programme Prism de la NSA, cyber-espionnage massif des citoyens et des dirigeants du monde…), qu'est-ce qui vous surprend le plus ?
Yves Gassot : Ce n'est pas un domaine de compétence de l'Idate. On se retrouve dans des franges grises, fussent-elles abritées par les gouvernements. Je ne suis pas fondamentalement étonné en même temps.
Les réseaux, la puissance informatique et l'exploitation massive des données (big data) ouvrent des possibilités nouvelles pour alimenter des traitements de systèmes d'information.
ITespresso.fr : Mais le gisement de valeur dans le numérique pourrait se transformer en défiance globale vis-à-vis des réseaux, faute de garde-fous…
Yves Gassot : La maîtrise des données est une problématique importante. A ce sujet, on peut établir des liens entre trois éléments : les questions de la défense du copyright (avec toutes les différences entre les mondes anglo-saxon et européen là-dessus) face à la piraterie, la confidentialité et les pratiques des Etats au titre de la lutte antiterroriste mises en avant avec les révélations d'Edward Snowden.
Cela va finir par développer une mobilisation dont on connaît pas trop les conséquences.
——————————-
Inscription au DigiWorld Summit par l'IDATE : cliquez ici.
——————————-
Lire aussi :