Mark Zuckerberg (Facebook) : Time appuie sur le bouton « J »aime »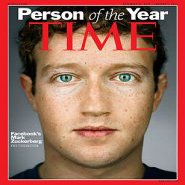 Le magazine américain a sélectionné le fondateur de Facebook comme personnalité de l'année 2010. Mais le profil de Mark Zuckerberg n'est pas forcément lisse.
Consécration pour Mark Zuckerberg. Le fondateur et P-DG de Facebook remporte le titre de « Personnalité de l'année 2010 » (Person of the Year for 2010) décerné chaque année par le magazine Time.
Il rejoint à ce titre d'autres personnalités du monde de l'IT ayant déjà reçu cette distinction honorifique comme Jeff Bezos (Amazon.com), Andy Grove (Intel) ou Bill Gates (Microsoft).
Agé de 26 ans, c'est la deuxième personnalité la plus jeune du palmarès « Person of the Year » (le premier étant Charles Lindbergh, distingué en 1927).
« Facebook s'est fondue dans la vie sociale des Américains. On peut même dire dans la vie de citoyens de tous pays. Un Américain sur deux dispose d'un compte Facebook et 70% des membres vivent en dehors des Etats-Unis », peut-on lire dans un article dans l'édition du Time en date du 15 décembre. « Nous sommes entrés dans l'ère Facebook et Mark Zuckerberg est l'homme qui nous l'a apporté ici. »
Bien avant cette distinction, Mark Zuckerberg avait déjà atteint un statut d'icône culturel.
Plus tôt dans l'année, la sortie d'un film dédié à la genèse de Facebook (The Social Network, réalisé par David Fincher) décrivait le fondateur de Facebook comme une personne machiavélique n'hésitant pas à écarter ses amis afin de transformer le réseau social en forteresse Internet.
Une « fiction » selon le principal intéressé qui a cherché à en arrondir les contours tout comme les autres portes-paroles de la société.
Juste avant la sortie du film, Mark Zuckerberg avait fait un don de 100 millions de dollars en faveur des écoles publiques défavorisées de Newark (Etat du New-Jersey).
Facebook dispose désormais d'un méga-base de 550 millions de membres. Selon ComScore, les internautes américains ont passé 41,1 millions de minutes sur Facebook courant août (contre 39,8 millions de minutes pour la galaxie des sites Google).
Le bouton « J'aime » de Facebook déployé sur des sites tiers (inclus dans le programme Facebook Connect) a permis d'étendre son influence au-delà de son pré-carré.
Incontestablement, Facebook est devenu le premier réseau social dans le monde. Mais cette plate-forme communautaire se retrouve fréquemment sous les feux des critiques en raison des infractions liées à la vie privée et des soucis de sécurité IT.
Au point de mettre la puce à l'oreille de la Federal Trade Commission qui a initié une enquête. Depuis, Facebook a réagi en rajoutant des couches de protection mais cela n'a pas éteint les critiques.
Plus récemment, Mark Zuckerberg a annoncé qu'il compte céder la moitié de sa fortune qu'il laissera en héritage à des oeuvres caricatives.
Adaptation libre en français d'un article eWeek.co.uk : Mark Zuckerberg Named As Time's Person of the Year 2010 (15/12/10)
Lire aussi :