Résultats Netflix : le scénario s'écrit à l'international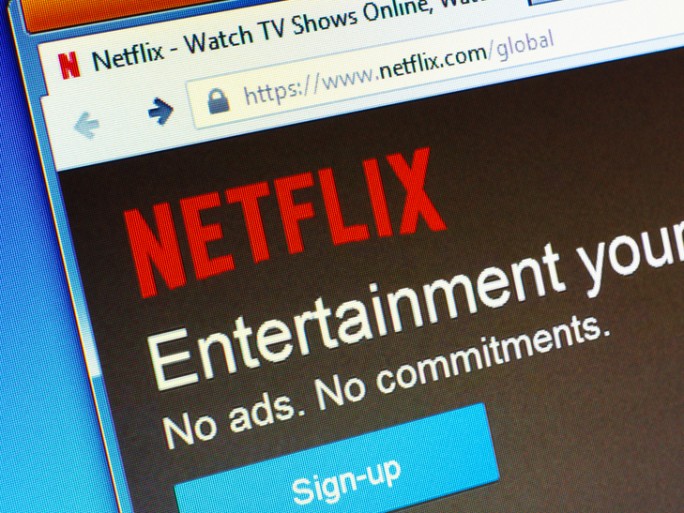 Percevant, au sortir d'une année de croissance, un ralentissement de son activité aux Etats-Unis, Netflix va accentuer son offensive à l'international.
Optimisation des marges aux Etats-Unis, croissance de la base d'abonnés en Europe, conquête du salon numérique via les set-top box, présence internationale dans les trois ans : l'équipe dirigeante de Netflix ne tarit pas de perspectives dans la lettre adressée à ses actionnaires.
Le service américain de vidéo à la demande a dévoilé, pour le 4e trimestre 2014 et l'ensemble de l'année, des résultats qui surpassent les attentes des analystes. Entre le 1er octobre et le 31 décembre, le chiffre d'affaires s'élève à 1,305 milliard de dollars, contre 1,18 milliard un an plus tôt. Le bénéfice net ressort à 83 millions de dollars, soit 1,35 dollar par action… contre les 45 cents qu'anticipait le consensus. Il faut dire que Netflix a pu débloquer des réserves de 39 millions de dollars (63 cents par action) initialement provisionnées pour régler d'éventuelles taxes liées à la R&D.
Même tendance sur l'année, avec un CA à 5,5 milliards de dollars (contre 4,4 milliards en 2013) et un bénéfice par action de 4,32 dollars (1,85 dollar l'an dernier). Netflix termine l'année avec une trésorerie évaluée à 1,6 milliard de dollars.
Les recrutements se sont accélérés en 2014 : 13 millions d'abonnés supplémentaires, contre 11,1 millions ajoutés en 2013. Des chiffres en augmentation aussi bien aux Etats-Unis (39,1 millions de clients au 31 décembre, dont 1,9 million de clients recrutés sur le 4e trimestre et 5,7 millions sur l'année) que dans le reste du monde (18,3 millions d'abonnés, soit 7,3 millions de plus en un an et 2,43 millions sur le dernier trimestre). Wall Street avait émis des prévisions plus prudentes ; en l'occurrence, 1,83 million de recrutements aux Etats-Unis et 2,17 millions à l'étranger au cours de la période automnale.
Netflix s'ouvre au monde
Netflix réalise encore l'essentiel de son activité sur son marché national, avec des facturations à hauteur de 917 millions de dollars en comptant les 89 millions tirés du service de location de DVD/Blu-Ray par voie postale (5,8 millions de souscripteurs). Mais c'est bien à l'international que réside le potentiel de croissance. Le nombre d'abonnés a augmenté avec l'ouverture à de nouveaux pays (France, Allemagne, Autriche, Belgique, Luxembourg, Suisse) au 3e trimestre. Quant aux premiers marchés investis (Canada, Amérique latine, Royaume-Uni, Irlande, Pays-Bas et pays nordiques), « ils sont tous profitables », selon le CEO Reed Hastings.
Dans l'absolu, la croissance aux Etats-Unis ralentit. Netflix a d'abord pensé que c'était la conséquence de l'augmentation de ses tarifs au mois de mai. Mais au regard du profil des abonnés (beaucoup d'équivalents CSP-), l'hypothèse a été écartée. Il s'agirait plutôt d'une « progression naturelle ». Et d'après le CFO David Wells, Netflix s'est préparé à cette éventualité : l'objectif est désormais de relever la marge (28 % actuellement) d'environ 2 points par an en moyenne jusqu'à l'horizon 2020.
Netflix travaille aussi sur son offre de contenu. En 2014, le première saison de Marco Polo a fourni des résultats comparables à ceux de House of Cards et Game of Thrones. Tout comme Marco Polo, House of Cards est proposé en qualité 4K Ultra HD pour ceux qui disposent de suffisamment de bande passante. Il est question d'y associer un mode HDR (High Dynamic Range) pour améliorer un peu plus l'expérience de visionnage. Le peaufinage des algorithmes de recommandation se poursuit en parallèle.
Tout en tablant sur une expansion globale à l'horizon 2017, Netflix en profite pour annoncer l'arrivée, dans son catalogue, de la comédie The Interview, le samedi 24 janvier pour les abonnés au Canada et aux Etats-Unis. Relatant un complot fictif contre le dirigeant nord-coréen Kim Jong-un, ce film est au coeur du piratage de Sony Pictures survenu fin novembre.
—— A voir aussi ——
Quiz ITespresso.fr : connaissez-vous bien Dailymotion ?
Lire aussi :